Katrina Yashar stars as Alia, William J. Brown III as Reginald.
Photo by Gregg Le Blanc



In 1187, a caravan was captured by Reginald of Chatillon, a middle-ranking French nobleman and ruler of the Crusader city of Kerak. A high-born Muslim woman was among the captives and was held as a prisoner by Reginald. She was believed to be the sister of the Islamic ruler Saladin. This story is inspired by those events

Susan Dunn of For All Events writes the "Arabian Shakespeare Festival of San Francisco presents a fascinating and compelling play plucked from the annals of the Third Crusade of 1189. Playwright Betty Shamieh uses this historical backdrop to explore power politics in its many forms: gender, religion, education, class, to name a few." You can read her full preview here.

We hope that you will join us this May. Tickets as low as $15!




Katrina Yashar stars as Alia.
Photo by Gregg Le Blanc



Eddie Reynolds of Theatreeddys says "Suzanne Dean's imaginative direction is superbly executed by this fine ensemble..." You can read the full review here!

Bob Gardner of Theatrius says "Katrina Yashar dazzles..." in her portrayal of Alia in Betty Shamieh's Territories. Read the full review here!

Do not miss your chance to see this rarely produced gem of a play, that tackles issues of gender, power, and relationships. We would love to fill the house for this coming weekend, and we are offering a special $15 ticket price to all of our e-subscribers! Just enter the code SUBSCRIBER in all caps when you are purchasing your ticket. Just click here for tickets!




Breach Once More Presents
The Taming of the Breakfast Club:
Directed by: Lauren Burgat
Heretofore: this be thine biggest snub;
Thou failed to tame the Breakfast Club!"
(San Francisco, CA) The Taming of the Breakfast Club
This is the first production of Breach Once More's 2019 season.
The Taming of the Breakfast Club is the mash-up of 80's cult classic films and faux- Elizabethan language; of which the Bard would indelibly ask, "do you want me to puke?"
Cast members include Steve Bologna (Breach Once More Artistic Director), Alfred Muller, Joanna Mahaffy, Katie Motta, Sarah Savage, and Robert Levy. Including the live music of: Nick Sayada (Preview show) & the Chris Merrill Band (tour only)
The Taming of the the Breakfast Club features, five preparatory students, in Shermer Castle, Shermershire, in the house of Illy O' Noise; in the year of our lord 1584. These over age'd children doth endureth a Saturday detention, under a power-hungry magistrate: The Duke of Vernon. The disparate groupe includes: Sir Andrew, (the "Sport-o-Cus") Dame Clare, (a lady in pink) Lady Allison (a basket O' case) , Sir Brian (a "midsummer's cream") and The Knave (John) Bender(the "baddest boy in London, Scotland or Wales"). Each has a chance to tell his or her story, making the others see them a little differently -- and when the day ends (as the cock doth crow) they question whether school, Olde Londony towne, or their wits, will ever be the same.
WHAT: Breach Once More presents:
The Taming of the Breakfast Club
WHEN: SNEAK PREVIEW FOR THEIR 2019 TOUR
December 13-15
SHOWS: Thursday/Friday/Saturday at 8pm
***DOORS OPEN AT 7:30
Royce Gallery; 2901 Mariposa St, San Francisco, CA 94110
INFO/CONTACT:
Breach Once More/YPT
Fort Mason Center 2 Marina Blvd #300
San Francisco, CA 94123
TICKETS:
General Admission; Pre-sale: $25; At Door: $28
Students/Seniors; Pre-sale: $22; At Door: $28
For tickets: www.breachoncemore.org/tickets
Contact: Steve Bologna
(415) 283-8911 info@breachoncemore.org
Special Event

Refugee Voices and Euripides' The Trojan Women

Euripides wrote The Trojan Women two and a half thousand years ago. It's about captive women in the aftermath of war. This modern dress version begins with a prelude presenting refugee voices from modern conflicts, as far back as World War II, as recent as todays Middle East. Refugee Voices and Euripides The Trojan Women is as relevant today as the story Euripides told. Today, there are over 65 million persons displaced by conflicts around the world. Euripides understood their plight. METs production relates that plight to todays circumstances.

Equity actors in the cast are Marjorie Crump-Shears as Hecuba, Lily Tung Crystal as Cassandra and Esperanza Catubig as a forlorn young wife.

DOORS OPEN ONE HALF HOUR BEFORE SHOWTIME.
Sept 27 thru Oct 21
8 pm Thursday, Friday, Saturday
2 pm Sun
To visit MET's website CLICK HERE.
Opening week only $15
VIP Reserved Seats $40
Remaining Three Weeks
General Admission $30
Seniors, Students, TBA $20
VIP Reserved Seats $40
Group Rate (8 or more) $15
---
Five Choice Restaurants Near the Royce
Tartine Manufactury Farmhouse Kitchen
Central Kitchen Flour and Water Gallardos
Parking Near the Royce
Weekday Evenings: easy after 5pm -- Weekends: easy
---
Public Transportation
From the 16th Street BART Station take
MUNI 22, 33, or 55 or just walk (only 11 minutes).
From Potrero Avenue and Mariposa the walk is only 5 minutes.
MUNI lines along Potrero Avenue are the 27 and the 9 or 9R. The latter two can be boarded from the Powell Street BART Station.



Tweet Share
The Jackleg Theater Project, in association with San Francisco's Theater of Others, will stage Sophocles' Antigone June 22-July 1 at Royce Gallery.
2901 Mariposa Street (at Harrison Street) in San Francisco 94110. The production is directed by Theater of Others' Gaby Schneider. It runs for two weekends and seven performances only, June 22-23-24 and June 28-29-30, July 1. More information at to-sf.org.
Antigone is the third play in Sophocles' "Oedipus" trilogy chronicling the curse on the city of Thebes. After the death of King Oedipus, the city of Thebes falls into chaos, resulting in the deaths of Oedipus' two sons, Eteocles and Polynices. Since Polynices rebelled against the city, the new king, Creon, decrees that his body will not be properly buried, but be left to rot. Antigone, Oedipus' daughter and sister to the two brothers, disobeys her uncle Creon's decree and plots to bury Polynices. By her own private rebellion, Antigone brings on further deaths to the family, fulfilling the ancient curse against Thebes.
The usual home of Theater of Others is Kelly Cullen Community Auditorium, 220 Golden Gate Avenue in San Francisco. The Jackleg Theater Project appears for the first time at Royce Gallery.
Cast
Tracy Baxter: Eurydice
Federico Edwards: Kreon
Yousuf Fauzan: Messenger
Harry Fahn: Haemon
Claire Fry: Ismene
Glenn Havlan: Chorus Leader
Haley Roth-Brown: Antigone
Gene Thompson: Tiresias
TICKETS: $15 at https://www.brownpapertickets.com/event/3417629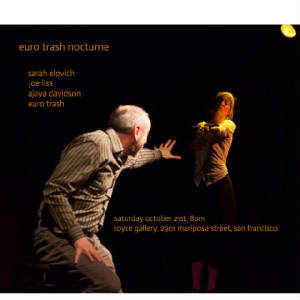 Southern Railroad Theatre Company

Entropy Productions and 3Girls Theatre Company

present

TAKEN

Written by Susan Jackson

Directed by Wesley Cayabyab

In TAKEN, Corrie travels to San Francisco to see if

she can identify the body of a young man evicted from his home.

Is it her brother? Or just a stranger?

Who is responsible for this life that was taken?

Featuring: Diana Brown, Susan Jackson, Brian Levi

Eric Reid, Amitis Rossoukh & Nathan Tucker

Performances:

::Fri. & Sat. @ 8 PM Doors open at 7:30 PM

Royce Gallery, 2901 Mariposa St, San Francisco, CA 94110 (at Harrison )

FOR TICKETS GO TO

http://www.southernrailroadtheatrecompany.com/

Tickets: ttps://www.eventbrite.com/e/taken-tickets-27136613341
END
Join us this September and October for Shakespeare's classic tale of ambition, retold with a 6 actor cast.
Directed by Terri McMahon. Tickets available at www.arabianshakes.org or via phone at 408 499 0017
Featuring
Radhika Rao,Teddy Spencer*,Nathanial Andalis, Nicole Weber*, Kirsten Peacock, William J. Brown III*
*Member Actor's Equity Association
This is an Equity Approved Project
Friday, June 24, 2016 at 8pm,
room: STILL BURNING! (Violagate Revisited)
room: ROOMKEYS
Friday June 3, 2016, 8 pm

The 2016 ROOM Series begins with an evening of Bay Area keyboard virtuosi playing contemporary music on a variety of black and white keys.

pianist: TANIA CHEN
accordionist: ROB REICH
prepared Fender Rhodes: ERIC GLICK RIEMAN
keys & gesture controllers: DONALD SWEARINGEN

Composer/performer Pamela Z will join them on voice & electrronics for a tutti finale.

The ROOM Series @ Royce Gallery
2901 Mariposa Street, San Francisco, CA, USA
Reserve your ticket now for ASF's 2nd Annual New Works Festival featuring 4 brand new plays by Deema K. Shehabi, Jennifer Le Blanc, David Graham, and Sabina Piersol.

Each 15 minute play has been created with inspiration from the poetry of Ibn Al-Arif, an Arab poet from the 12th century, and AIshah Al BaUniyyah, an female Arab poet from the 16th century.

Directors will be given a cast of actors and less than 10 hours of rehearsal to completely stage the play. We hope you will join us on June 4th for this exciting program.

Pre-ordering tickets also gets you the chance to get discounted drawing tickets! Drawing prizes include: a personalized poem by Garland Thompson Jr., wine, tickets to a variety of theatres and more!
ASF would like to once again offer our most heartfelt thanks for your continued support. We recognize that many of you are unable to make a direct monetary contribution, but that's ok! Please consider making Arabian Shakespeare Festival your charity of choice when you shop on Amazon, by using AmazonSmile, or sign up for Escrip, again making ASF one of your charities. Both options are totally free to you, but make a huge difference to us! Shakespeare said it best " thanks and thanks and ever thanks!"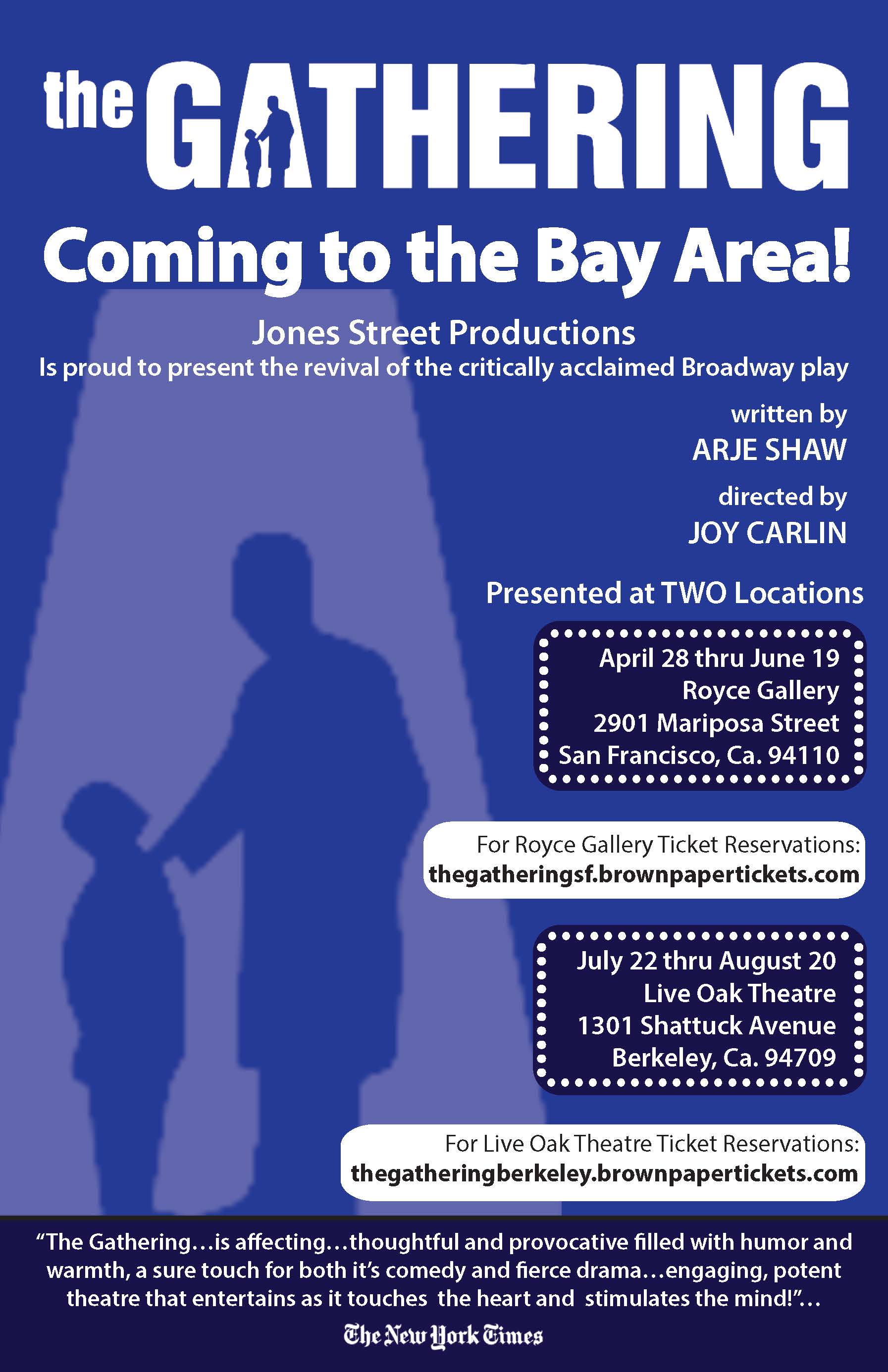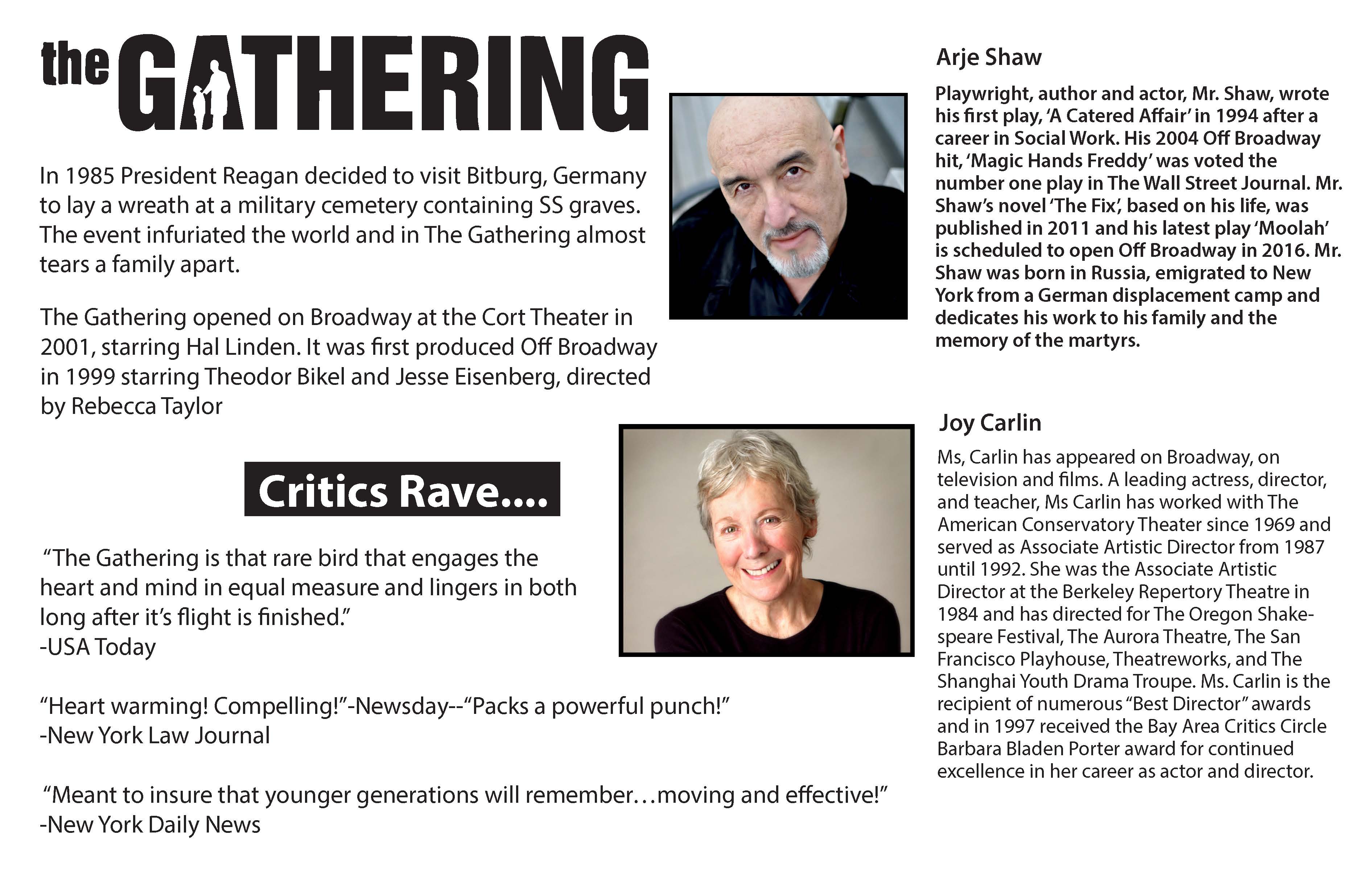 SPARE STAGE PRESENTS

BAY AREA PREMIERE

OF ALAN BENNETT'S

TALKING HEADS

ROYCE GALLERY, San Francisco

MARCH 11-27

An award-winning series of solo pieces, classics of contemporary drama,

hailed for their razor-sharp wit and deeply felt humanity.

"These extraordinary portraits of ordinary people confirm

Alan Bennett's place as one of the most gifted, versatile,

and important writers in the English language."

"Few write sharper dialogue or probe more tellingly into the frailties

and occasional strengths of the human psyche than Alan Bennett."

-William Trevor

Alan Bennett is a renowned British essayist, storywriter, actor, and playwright (The Madness of King George, The History Boys, and The Habit of Art). His first great success was as a member and coauthor of the legendary satirical revue Beyond the Fringe. Over his long and illustrious career, he has won more than 35 distinguished honors, including the Tony, the Olivier, Drama Desk, and NYC Critics Circle Awards as well as numerous British Academy Awards. His screenplay for The Madness of King George was nominated for an Academy Award.

The film version of his famous memoir The Lady in the Van, starring Maggie Smith, will be released in 2016.

Written for film, TALKING HEADS was first produced for BBC Television in 1988, starring a roster of England's best-known actors, including Penelope Wilton, Eileen Atkins, Maggie Smith, and the playwright himself. Selections of the monologues appeared on the West End stage in 1992, in Los Angeles in 2002, and in New York City in 2003. The Spare Stage production will be the first staging in the Bay Area.

Three weekends only, Opens at Royce Gallery Fri., March 11, 2016 at 8PM. Doors open 30 min. before curtain.

For more information: and tickets www.sparestage.com
The San Francisco
Supershuffle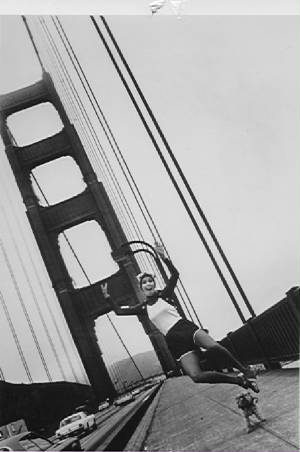 Rosie Radiator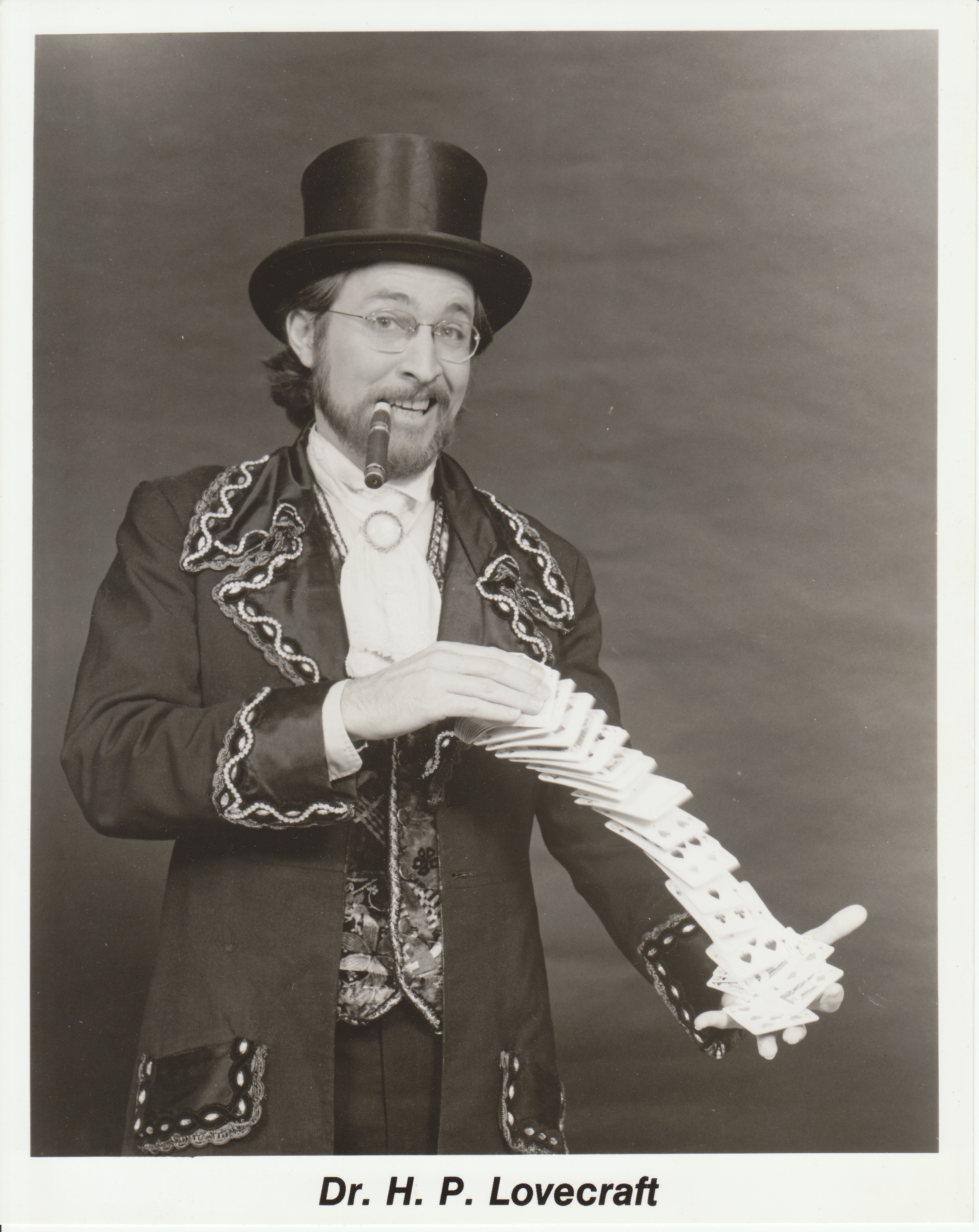 Friday and Saturday February 12 and 13 2016

Two Shows Only!

Soundancing Presents

The San Francisco

SUPERSHUFFLE 2016

ROYCE GALLERY

2901 Mariposa Street SF CA USA

February 12-13 2016

Doors open 7:30 Show 8PM

Two shows only $25 All proceeds Benefit Soundancing

Tickets at Brown Paper Tickets

Featuring

Dr. HP Lovecraft

Award winning comedy magician

Rosie Radiator

Guinness World Champion Tap Dancer

You will be swept away by a rare evening of foot and hand magic by the best.

Special tribute to the

Queen of the PPIE 1915 Bess Hartsook

Get your tickets early. They will not be sold at the door.
Dangerous Corner
January 8-24 2016
SF City Theatre Company in a Mysterious Time-Warp
with J. B. Priestley's
1930's Psychodrama Now Considered Ahead of Its Time
"A fascinating combination of mystery play and psychological study. It shows how the gradual revelation of the truth about a murdered man disrupts his family and friends and shows them up for the rotters they are."
Barry Dix, Get West London
David Acevedo directs a cast of seven
Cast and Creative Team
CJ Smith as Robert Caplan,Deborah Joves as Frieda Capla,David Richardson as Gordon Whitehouse,Adrienne Dolan as Betty Whitehouse,Lukas Hoag as Charles Trevor Stanton,Anastasia Durbala as Maud Mockridg,Mary Waterfield as Olwen Pee.
Director - David Acevedo,Producer - Marte Mejstrik,Set Designer - Henry Sellenthin,Lighting Design - Carson Duper,Costume Design - Maria Graham,Choreographer - Raul Avina,
Doors open 30 minutes before show
Place: Royce Gallery, 2901 Mariposa St. (bet. Alabama & Harrison) San Francisco, 94110
Runs: January 8-24, Fridays and Saturdays, 8:00 pm. Sundays, 2:00 pm
Tickets: Adults $25.00, Seniors and Students $23.00, Groups of 10 or more $23.00 each.
Learn more & buy tickets at (650)-784-5303 or BrownPaperTickets.com
---
Tickets on Sale Now for the World Premier of

Audiences will now have the chance to see this powerful work for the first time. ASF has assembled an incredible creative team, of almost all women, to tell the unique stories of the women of Kuwait. We hope that you will join us and be among the first audience members in the world to witness this exciting new work. This is an extremely limited run of only two weekends (Dec. 10-20) so reserve your tickets now!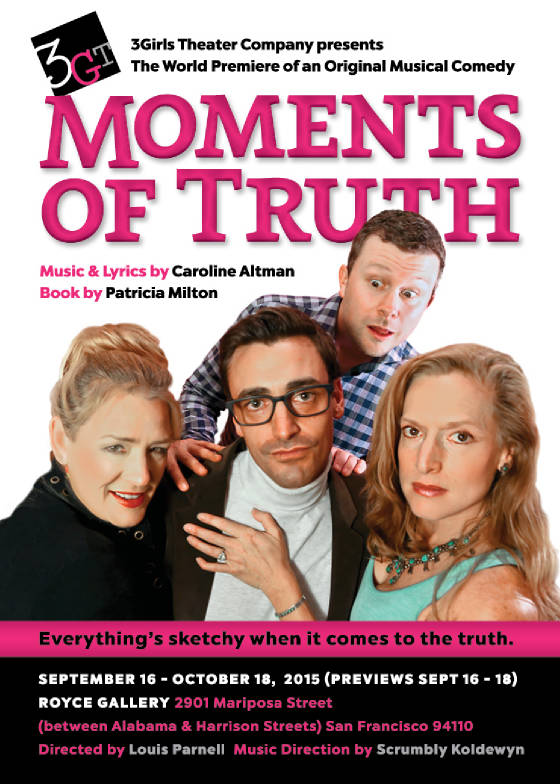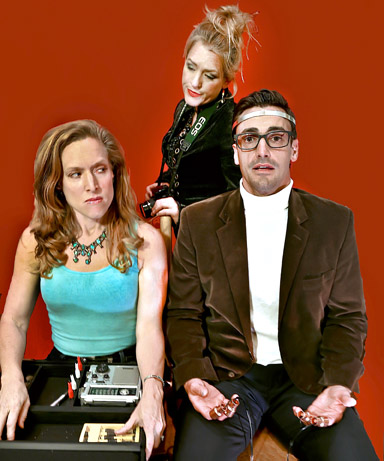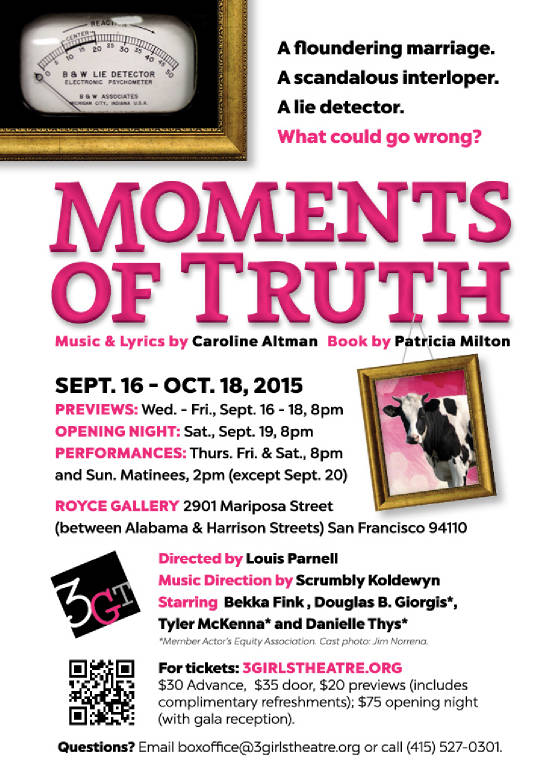 "Far and away the best spoken production I have recently experienced."

"Beautiful!"

"Excellent! Enthralling!"

The reviews are in and Othello is a hit. Don't miss your chance to see the show that Kurt Daw of Shakespeare's Tribe calls a "fascinating and original production" and "for those who go to hear a Shakespeare play, [it] is what you dream about."

You can read the entire review here: The Arabian Shakespeare Festival Reexamines Moorishness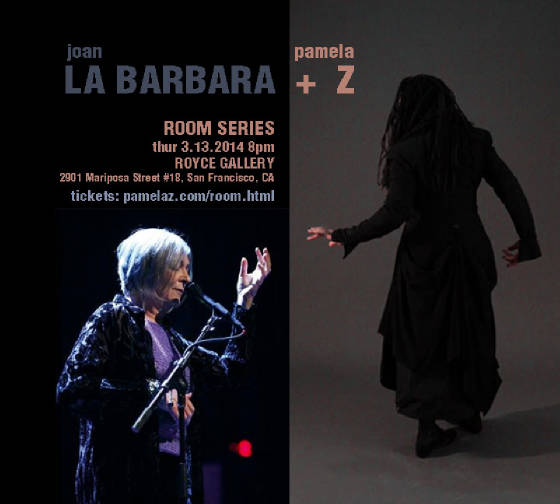 ROOM: La Barbara + Z
Pamela Z Arts' intimate avant chamber series is proud to present a shared evening of experimental vocal works by extended voice pioneer Joan La Barbara and composer/performer Pamela Z as the first event in the 2014 ROOM Series season.
The ROOM Series is an avant chambre music series that takes place at Royce Gallery, an intimate performance gallery in San Francisco's North East Mission Industrial Zone (NEMIZ). Composer/performer Pamela Z hosts evenings featuring a variety of virtuosic, solo artists and chamber groups playing experimental music.
Royce Gallery, 2901 Mariposa Street San Francisco, CA
The Southern Railroad Theatre Company
returns this December with the world premiere of Susan Jackson's
new holiday play
THREE MARYS AND AN OTTER: Rocket's Red Glare, the Holiday Story
WRITTEN BY SUSAN JACKSON**
DIRECTED BY ANN THOMAS
**Bay Area Theatre Critics Circle award winner
Co-Producers, Diana Brown and Susan Jackson
Written by Susan Jackson
Directed by Ann Thomas
Production Manager, Stacy Marshall
Sound Design: Eric Nelson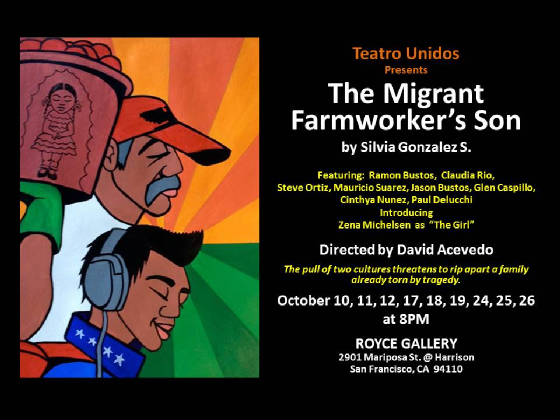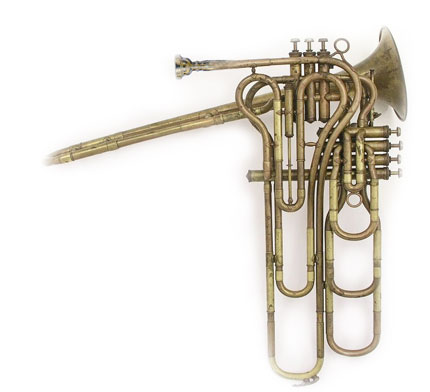 Pamela Z Arts presents ROOM
ROOM:labrosones
August 28 8 PM (door open 7:30)
An evening of new music for brasswinds (combined with a little voice & electronics) at The Royce Gallery in San Francisco, CA
Pamela Z Arts' intimate avant chamber series continues with an evening of new music for brasswinds (combined with a little voice & electronics). Prodigious ombutures will force compressed air though meters of brass tubing to excite the bells and your ears. Pamela Z will join them to add a little voice and electronics to the labrosonic frenzy.
Tom Dambly (trumpet & electronics) ...
Krys Bobrowski (horn and kelp horn)
Richard Marriott (trombone)
with Pamela Z (voice & electronics)
Each will perform solo work (and some possible duos), and then Pamela will join all of them in an ensemble finale.
For info, visit
http://www.pamelaz.com/room.html
For tickets: Brown Paper Tickets
http://www.brownpapertickets.com/event/409896
Coming to the Royce
THE MIGRANT FARM WORKER'S SON
written by Silvia Gonzalez S.
October 2013
International Theater Ensemble
presents
Samuel Beckett's
ENDGAME
July 11 - 20, 2013
What: The Nobel Prize winner Samuel Beckett as never seen before! Original and innovative interpretation of the most enigmatic postmodernist play acknowledging the influence of Laurel-and-Hardy's seriocomic acting style set on a computer animated stage. ITE's production of Endgame aims at the humorous, humane side of Beckett's masterpiece and its paradoxical vision of ending as a preposition for continuation, obstacle as a cause of movement, game as a source of life. Directed by Russian/American theater master Oleg Liptsin. Performed by: Greg Young, Oleg Liptsin, Phil Estrin and Gale Bradley.
When: Previews Thursday, July 11 at 8PM.
Opens Friday, July 12 at 8PM.
Closes Saturday, July 20 at 8PM.
Showtimes: Thurs-Sat 8PM (door opens at 7:30PM).
Where: Royce Gallery, 2901 Mariposa St., San Francisco.
Wheelchair accessible,
Tickets: $20-24, student/senior discount. Preview - flat rate $18.
Complimentary refreshments included.
Tickets: by phone - 510.854.6242, by email: itetheater@gmail.com
Endgame is presented by special arrangement with Samuel French,
January 19 2013 8pm
SOUNDANCING
at the Royce
SOUNDANCING at the Royce

January 19, 2013 8pm
Please join us at the Royce Gallery for our first ever benefit show. We are proud to feature cutting edge acoustic and MIDI pioneers in music and tap dance.

Michael Shoehorn Conley Shoehorn is an original performance artist who creates music with his feet and dances with his horn. Michael Shoehorn Conley has combined organic body rhythms and sophisticated jazz forms and concepts into an entertaining spectacle. While specializing in sax and tap dance, he is a multi-instrumentalist, arranger and composer, utilizing a variety of wind and percussion instruments, original poetry and songs and an ear for music from around the world. Check out his original e-tap electronics at e-tap electronic tap dance demonstration - YouTube

E Dr. Smith A San Francisco musician and a director of biodiesel nonprofit Green Depot, Smith is the inventor of the Drummstick, his not-for-sale signature percussion device. This year, he released Drummstick 2 on Edgetone Records, and played on a second newly released album called "Robert Anbian and UFQ: the Unidentified Flying Quartet." Meanwhile, Green Depot is trying to bring a biodiesel station to the Bayview. See him at The Drummstick - YouTube

Rosie Radiator Is San Francisco's tap dance guru*. Her Guinness world champion tap dance escapades across the city of San Francisco and throughout the world are legendary. Her amazing Supershuffle loose ankle tap style is enhanced by her original MIDI innovations built into the stage at the Royce Gallery. Rosie will be joined by members of the SF Tap team. *Smithsonian Mag

Rock'n Rolleen Is an accomplished tap dancer, master teacher and MIDI trendsetter. She is the producer/host of Rock'n Rolleen's "Hard Rock Work Out" TV Show and reporter for the "Metal Minute" TV Show. Current Oakland Raiderette "Footballs Fabulous Females". She was Miss Alameda County and she was chosen to represent the Oakland Raiders for the NFL "All Pro Cheerleader Tour" traveling to Mexico City and Guadalajara. She also performed at Super Bowl XXIX. Rolleen will be joined by members of T.A.P.
Royce Gallery

The Southern Railroad Theatre Company
" Bringing the Southern experience to the Bay Area, one hush puppy at a time."
2BEHOLDEN: OR NOT 2B!
Five new short plays by Susan Jackson Directed By:
Stephen Drewes, Ann Kuchins, Susan Jackson, and Ann Thomas
Featuring:
Diana Brown, Robert Cooper, Adrienne Krug, Ann Kuchins, Susan Jackson, Eric Nelson, and Margo Sims
In 2BEHOLDEN: Or Not 2B!, The Southern saga continues with the emancipation proclamation, ghosts, murder, bigamy, camouflage, and the wedding of the century. As always, everyone's related by blood or marriage.
"Fabulous acting, intimate setting, down home hospitality"
4.5 OUT OF 5 STARS
- SF GATE -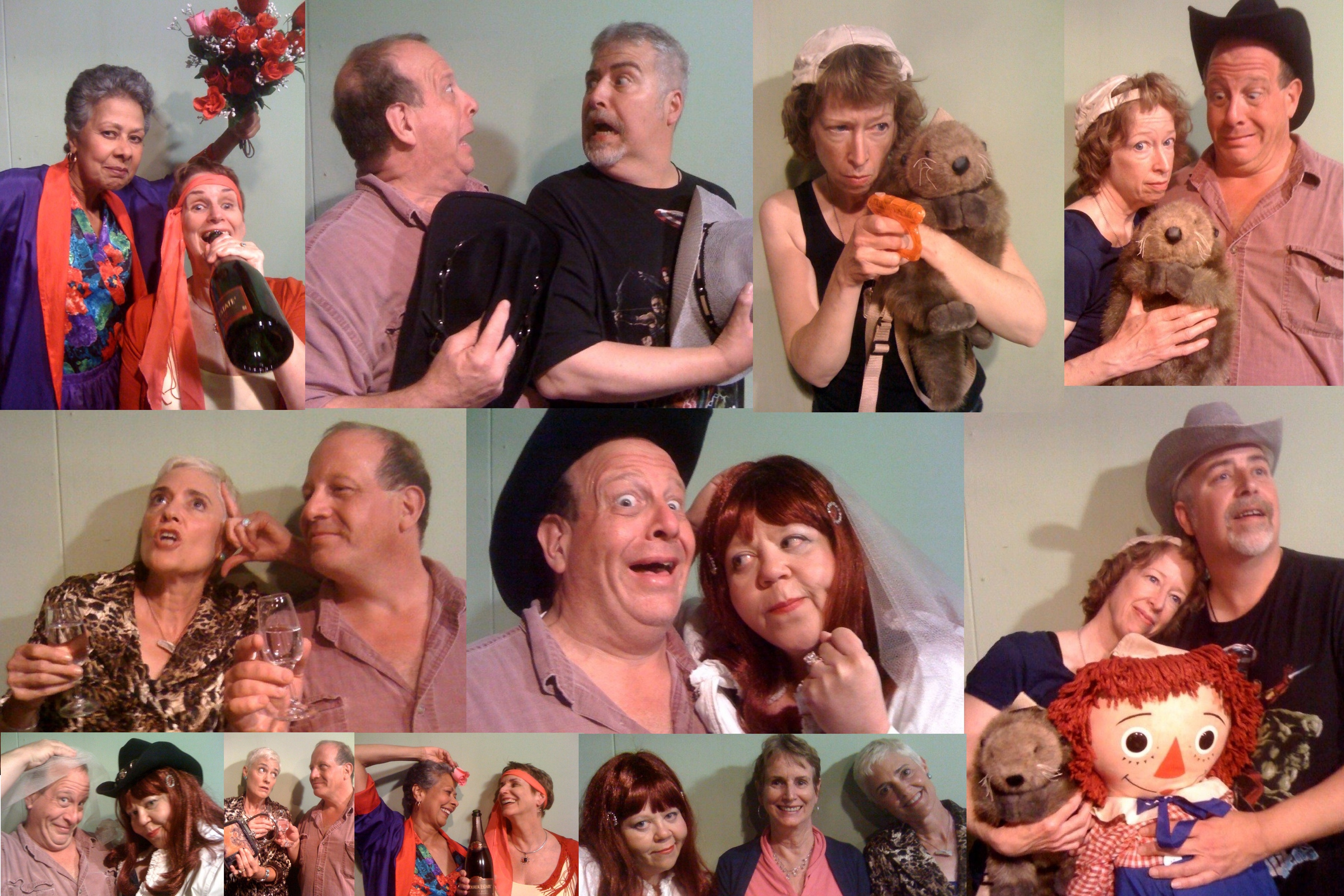 One night only June 30 The Royce Gallery is proud to present
The Smith River: The Fight for California's Last Wild River + Joanne Rand
Award winning journalist Greg King presents his breathtaking photos of the Smith River,
in the far northwestern corner of California,
He brings to life the threat of pesticides and other impacts to this last of the state's wild rivers.
The Smith River is the only major undammed river in California,
and it is one of the cleanest and most beautiful rivers in the world.
Scientists are relying on the Smith River to maintain healthy populations of salmon
and steelhead in order to have viable wild stocks
that can recolonize other California and Oregon streams into the future.
Yet even on the Smith River salmonids face an uphill battle against a damaged lower reach,
and against ongoing pesticide use on Easter lily farms that surround the Smith River estuary.
King, who serves as Executive Director of the non-profit Siskiyou Land Conservancy, will be followed by
Joanne Rand
whose music is "nothing short of brilliant," according to the Santa Rosa Press Democrat.
"A remarkable talent and a visionary artist" -CEO, Zone Music Inc.
Joanne Rand's music "spans the human condition" -Womens Voices
---
---
---
Extended to May 18,19

A Celebration of
Harold Pinter
Julian Sands
directed by
John Malkovich
" A Celebration of Harold Pinter is a must-see event..."

"... the intimate setting of the Royce Gallery lends itself perfectly to the reading. Two pillars form a natural proscenium and an old table holds two dog-eared books and scattered sheets of paper, while black curtains that pool to the floor on all three sides of the stage cocoon the actor and enhance his beautifully intoned reading."

BROADWAY WORLD

Review by Linda Hodges

Tuesday, May 15, 2012; 10:05 AM - by Linda Hodges

The late playwright and Nobel Laureate for Literature Harold Pinter is being celebrated in a one-man show directed by Academy Award nominee John Malkovich and starring British actor Julian Sands. The aptly named production, A Celebration of Harold Pinter, debuted at the Edinburgh Fringe Festival in 2011 and is at the Royce Gallery in San Francisco for a limited engagement continuing May 18 through May 19. While 'Celebration' does not pretend to be a play, it could have done with some of the dramatic arc, tension and general cadence of a theatrical production. That said, Sands' warmly rendered readings and reminiscences of a man he much adored make A Celebration of Harold Pinter a must-see event for now and future Pinter and Sands fans alike.

The general public is certainly not as familiar with Pinter's poetry as it is with his edgy, seat-squirming, anxiety provoking plays where intimidation and abuse of power were brilliantly portrayed by the playwright. Indeed, Sands was quick to point out that Pinter, like his plays, was described as 'enigmatic, taciturn, prickly, explosive and forbidding.' But Sands also asserted that it was through the great man's poetry that his subjective feelings -- his romantic, political and philosophical fervor -- were just as plainly revealed. For the next 90 minutes of the show he set about proving this point, adding that it was his belief that "had he [Pinter] only revealed himself as a writer through his poetry that his literary legacy would have endured."

Although that assertion would more than likely be contested by Pinter scholars, Sands comes to his conclusion by way of a close, personal connection with the author himself. Back in 2005, when Pinter's advancing illness made it impossible for him to read his poetry at a benefit he had agreed to do, he asked Sands to take his place. Sands readily agreed, even after – or perhaps especially because – Pinter insisted that Sands be tutored by him in the precise phrasing, emphases and, of course, pauses (Pinter became famous for his pauses), necessary to do the works justice. Sands recounts the fact that on the night of the performance Pinter sat in the front row mouthing the words, making for a very intimidating evening for the actor.

It is just such reminiscences, laced liberally throughout the readings of Pinter's prose and poetry that take the performance over the top. As well, the intimate setting of the Royce Gallery lends itself perfectly to the reading. Two pillars form a natural proscenium and an old table holds two dog-eared books and scattered sheets of paper, while black curtains that pool to the floor on all three sides of the stage cocoon the actor and enhance his beautifully intoned reading.

Slowly and with great love, Sands takes us through the life of Pinter, sharing a portion of his Nobel Laureate speech as well as stories and poems embracing his anti-war activism and obdurate criticism of President Bush and Prime Minister Blair. The audience is also made privy to Pinter's humor and wit at every turn. But what is perhaps the most moving is the revelation of his romantic side. It is his love story with beloved wife Antonia Fraser that will take your breath away. For her, because of her, he wrote a poem entitled "Paris."

Sands finds the location of the poem in the book and begins to read. "The curtain white in folds/She walks two steps and turns/The curtain still, the light /Staggers in her eyes." He pauses, his blue eyes softening as he continues. "The lamps are golden/Afternoon leans, silently/She dances in my life/The white day burns." The audience murmurs aloud, nodding their heads in understanding, acknowledging the love that Harold felt for his Antonia.

Masterfully, Sands continued reading poem after poem, pausing, always pausing, in just the right places, much to the audience's delight. Harold Pinter would have been proud.

Read more:

http://sanfrancisco.broadwayworld.com/article/Julian-Sands-Stars-in-A-CELEBRATION-OF-HAROLD-PINTER-May-18-and-19-20120515#ixzz1vA9blqka

"I know the place/It is true," says actor Julian Sands at the outset (and ending) of his quietly passionate homage to Harold Pinter. "Everything we do/Corrects the space/Between death and me/And you." Those lines from Pinter's poem "I Know the Place" are the heart of Sands' limited engagement, presented as a fundraiser for the Odyssey Theatre Ensemble. As such, it's mandatory viewing for devotees of the venue, the actor, and certainly "the defining dramatist of the 20th century."

That last quotation comes from Sands, who points out that, per Lady Antonia Fraser, Pinter's widow, had Pinter "heard that accolade, he would have passed it directly on to Samuel Beckett." Before this unique combination of poetry reading, anecdotal recollection, and unabashed veneration is over, audiences might find more than one corollary between the playwrights, not to mention Sands, whom this reviewer would pay to see in either scribe's work.

First seen in Edinburgh in 2011, Sands' piece has its roots in his 2005 substitution for Pinter at a benefit at London's St. Stephen Walbrook Church, which the seriously ill author permitted on the condition that he and Sands spend time together prior rehearsing the works. The lasting impact this had on Sands is evident throughout, whether expertly deconstructing the "Pinter pause" or channeling Pinter's famous full-throttle attack, with results sometimes harrowing, often hilarious, and always affectionately authoritative.

Under John Malkovich's direction, this "Celebration" is suitably austere, drawn from Pinter's poems and essays as well as key passages from Fraser's memoir "Must I Go?," among others. The combination of Sands' easy, communicative delivery, earnest intent, and unfussy technique provides the linchpin. Although the spare, often breathtaking poems, which can recall e.e. cummings, don't always match the oblique power of Pinter's greatest plays, it's impossible to look away.

By the ending, when Sands returns to "I Know the Place," it's hard not to feel that for an hour or so Pinter's spirit has graced us with his presence, courtesy of the redoubtable artist responsible for this mesmeric tribute.


Review LA Times 2012

doors open 7:30 Show 8PM $30 Brown Paper tickets

Royce Gallery 2901 Mariposa St SF CA 9410 415 558 1749

---
---
---
SPECIAL ENGAGEMENT – TWO NIGHTS ONLY
April 20 and 21, 2012 8pm
ROYCE GALLERY 2901 Mariposa st SF
8 PM doors open 7:30
THE STANDARD BEARER
Julian Sands Directs Neil Dickson
---
"smartly directed by Julian Sands… Played by Neil Dickson with perfectly modulated self-importance and cultural cluelessness" - Los Angeles Times
---
"Wyatt's writing is intelligent, funny, and well-judged… this is as much a short story in dramatic guise as a fully realized play, and mainly Dickson's ability and Sands' taste elevate it - Backstage
---
"truly an outstanding performance…I have never had a wash of so many emotions in 50 minutes" - Robert Kovacik - NBC
---
"Neil Dickson, the actor who play the actor, generates considerable laughs and pathos" - LAist
---
"The Standard Bearer: 100% sweet" - LA Bitter Lemons
---
Q & A following performances with director
Julian Sands and actor Neil Dickson
---
Julian Sands, recently acclaimed for his one-man show A Celebration of Harold Pinter, in Los Angeles and last summer at the Edinburgh Festival Fringe,directs fellow British thespian Neil Dickson in Stephen Wyatt's The Standard Bearer, about an old theater trouper who takes Shakespeare on the road to local communities in Africa and is forced to confront his very existence.
Julian Sands is most recently seen in the Academy Award winning film, The Girl With The Dragon Tattoo. He made his breakthrough in A Room With A View and among his many roles he has starred in the television series Stargate, Smallville, and 24. At Edinburgh he was directed in A Celebration of Harold Pinter by John Malkovich and told The Guardian, "to work with another person who can lend their own performing integrity is incredibly valuable. It's about trust, inspiration and confidence." Julian brings that same inspiration and value to Neil Dickson in The Standard Bearer.
---
Neil Dickson played the role of Harold Ford in the television series Mad Men. His film work includes Tim Burton's Alice and Wonderland, Ridley Scott's Body Of Lies, David Lynch's Inland Empire, cult classic Romy & Michele's High School Reunion and the BAFTA award winning film Chasing Chekhov. He has appeared in London at The Young Vic in The Dumbwaiter, The Albery in Pinero's The Gay Lord Quex directed by Sir John Gielgud, and at the Mermaid Theater in Trafford Tanzi. In Los Angeles, Dickson has appeared at the Pasadena Playhouse and The Odyssey and Complex Theaters.
---
Stephen Wyatt has worked widely in England in theatre, radio and television, and his play Memorials To The Missing won the Tanniswood Award for Best Original Radio Script in 2007 as well as Silver in the Best Drama category of the 2008 Sony Radio Academy Awards. His first full-length comedy, Exit, Pursued By A Bear was first produced at the 1973 Edinburgh Festival. Standard Bearer was first produced in London in 2001. The Sands/Dickson team premiered The Standard Bearer first in London 2011 to sold-out audiences and then continued a critically acclaimed run in October and November 2011 in Los Angeles.
---
THE STANDARD BEAERER
Royce Gallery 2901 Mariposa StreetSan Francisco, CA 94110
April 20 and 21 2012
Fri, Sat at 8 pm Doors open 7:30
Q & A following each performance
Ticket Line: (415) 866-3270
3.30.12
room: Low Reed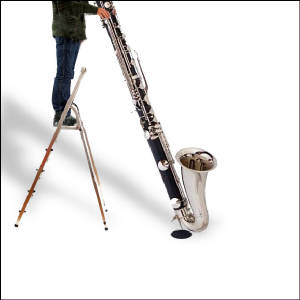 3.30.12
room: Low Reedan evening of new music for bass clarinets, baritone sax, and other low reeds (combined with a little voice & electronics) at The Royce Gallery in San Francisco, CA Featuring: Marty Walker (bass clarinet), Jon Raskin (baritone saxophone), Sqwonk (bass clarinet duo), & Pamela Z (voice & electronics). In the first event of its 2012 season, Pamela Z Productions presents
ROOM: Low ReedMarty Walker (Bass Clarinet)
Jon Raskin (Baritone Saxophone)
Sqwonk (Bass Clarinet duo)Each will do a solo set and/or duo with Pamela Z, and then Pamela will join all of them (on voice and electronics) in an ensemble finale.
Royce Gallery, 2901 Mariposa Street #18, San Francisco, CA
---
---
---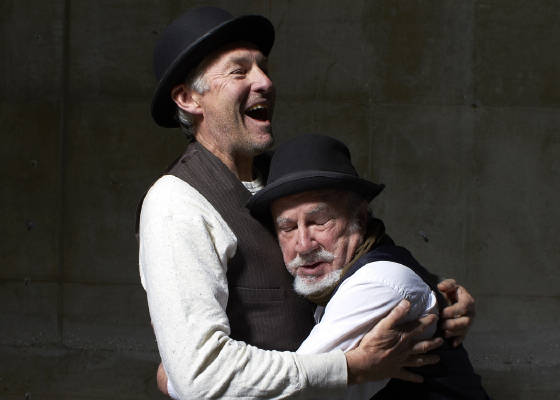 Tides Theatre Presents
Samuel Beckett's
Waiting For Godot
Director: Jennifer Welch
Assistant Director: Cary Cronholm Rose

Featuring: Keith Burkland*, Jack Halton, Duane Lawrence,
Renzo Ampuero* and Caleb Alexander Soundscape: Jon Bernson
Set Design: Richard Colman
Location: Royce Gallery 2901 Mariposa San Francisco
Dates: January 20 – February 18 2012
Thurs, Fri & Sat 8pm (doors open at 7:30)
---
---
---
---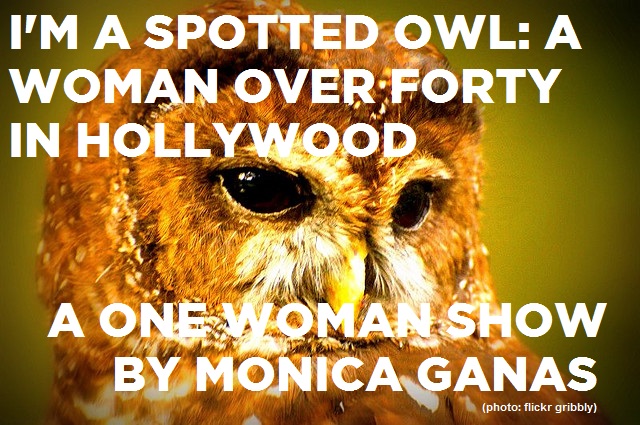 ---
---
The Royce Gallery is proud to present the work of well known Bay Area performing artist Monica Ganas in
I'M A SPOTTED OWL: A WOMAN OVER FORTY IN HOLLYWOOD
---
Saturday November 19, 2011 8PM doors open 7:30
$20 ($15 with student discount)
Limited seating reservations required
FOR TICKET INFO AND RESERVATIONS CALL 415 558 1749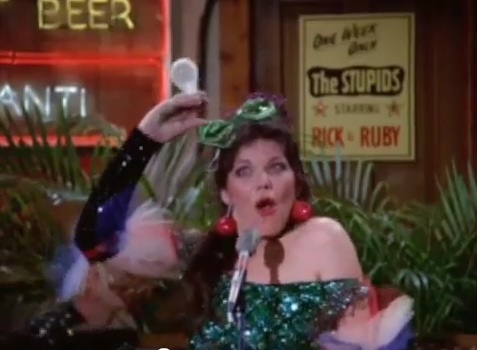 Monica Ganas in the Rick and Ruby show
---
In the 1970s and 80s, Monica Ganas's work with the musical comedy
trio The Rick & Ruby Show entertained audiences from coast to
coast. She left show biz for academia and now studies women
in the entertainment industry and in American culture in general. In
I'M A SPOTTED OWL: A WOMAN OVER FORTY IN HOLLYWOOD,
she trains her satiric eye on all of her experiences, and shares some
of the insights she's gained.
---
---
---
4 MERCY: Friendly Fires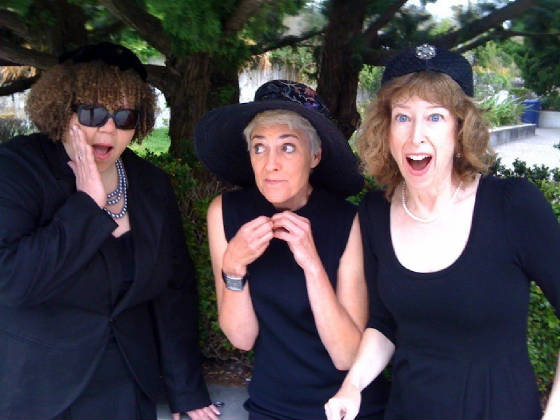 Pictured: (l to r) Diana Brown as Rhonda, Susan Jackson as Beth and Adrienne Krug as Sylvie in ADOPT A HIGHWAY from 4 MERCY: Friendly Fires
Bringing the Southern experience to the Bay Area

one hush puppy at a time"

"Fabulous acting, intimate setting, down home hospitality"

4.5 out of 5 Stars -SF Gate
4 MERCY: Friendly Fires
Four new short plays
written by Susan Jackson** 
 Directed by Stephen Drewes*, Susan Jackson and
Ann Thomas
"Playwright Jackson zooms in on the perfect moment in a life to pinpoint and flesh out."
-Tom W. Kelly, San Francisco Bay Times
*BATCC award--Director; **BATCC award-- Playwright
After our sold-out run of 4GIVENESS: In a Family Way, the Southern Railroad Theatre Company returns to the Royce Gallery this September to present award winning playwright, Susan Jackson's latest additions to her Southern Universe, four new short plays united under the theme of Mercy.
4 MERCY: Friendly Fires presents a new installment to our good ol' Southern soap opera, where everyone is related by blood or marriage, where dogs rule, where road trips and backyards reveal more than just weeds----and where mercy can be found.
one night only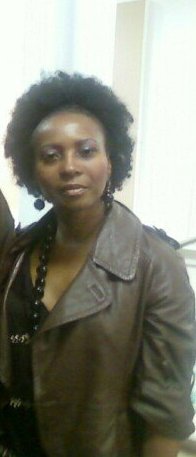 Sala-Haquekyah Chandler
Harriet Tubman

A One Woman Show

An extraordinary woman that has done more in her life time than many.

Through expressing herself to a wide diverse audience of various age groups, she speaks of the past, the present, and what she thinks of the future generation, her Rites and her achievements in her life time. A courageous woman also a woman called Moses. A One woman show with the assistance of a vocalist expressing "A Change Will Come" She speaks of femininity issues, political, and the economy today. Come out and join ourselves for a splendid conversation with Harriet Tubman starring Sala Haquekiah, written and directed by Femininity Wear Productions Yolanda Banks.



Sala-Haquekyah Chandler

Talk Show Host and Performer

Sala Chandler is a resident of San Francisco and an active voice in the community. She works closely with the city to help develop programs and initiatives to help the voices of the youth and their families be heard. Sala has worked with groups and communities of mothers whom have lost the precious jewels that are their children to violence. Sala has dedicated her time along with Femininity Wear Productions to providing cultural performances and shows to the children of the San Francisco school system.
---
---
---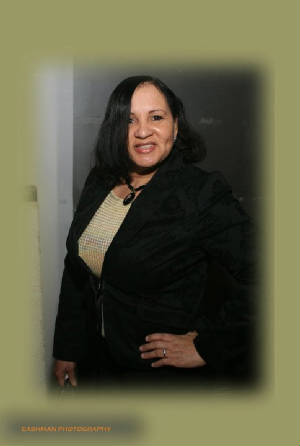 Yolanda Banks

Playwright and Visionary Artist

Yolanda Banks was born and raised in the San Francisco Bay Area. Through her mother Elizabeth Chambers she was introduced to the phenomenal world of art and the expression of her many talents at a very young age. Yolanda developed interest in the rich culture that she had come to love, and through cultivation of her ideals, she began creative writing and developed a young singing group along with her three sisters, which began her journey of perfecting her talent of song and play writing.
---
---
---
---
AUGUST 6th 2011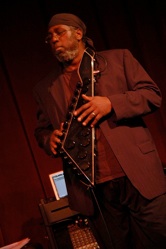 SAT AUGUST 6th ONE NIGHT ONLY!
E. Doctor Smith & Edo Castro
"An evening of music inspired by Eno"
Electronic percussionist E. Doctor Smith performs with bass virtuoso Edo Castro and special guests on Saturday, August 6th @ the Royce Gallery, utilizing the generative music and video software of Brian Eno.
Having played for 20 years in jazz, fusion, pop and folk bands as a serious student of drums, Smith has worked with the likes of Brian Eno, Madonna, Warren Zevon, Mickey Hart, Jimmy Cliff, and John Mayall and many, many others. He is also the inventor of the musical instrument, the Drummstick. Smith developed a love of digital drumming that compelled him to design and build an instrument that would give him maximum flexibility as a writer, drummer, and performer. The Drummstick, a percussion controller with 16 finger-pads mounted on a 2 x 6 piece of wood, is worn like a guitar and used exclusively to achieve Smith's primary musical goal in life "to make spirits dance". Following the success of his creation, Smith soon found himself performing with members of groups like Gong, Bela Fleck and the Flecktones, and many others. In 2007, the Zendrum company built a new, custom model for him, both wireless and extremely versatile.
Spawned by the extraordinary Northern California bassist Michael Manring, the "Bass Solo Night" concert series has quickly become a stomping ground for some of the San Francisco Bay area's best musicians. It's a movable feast of talented bassists and features a rotating pool of extremely creative and innovative players. E. Doctor Smith, (the inventor of the MIDI percussion instrument, the Drummstick), had been asked to perform at one of those shows alongside the bassist and fellow Flecktone fan, Ariane Cap. Ironically, it was during this show at Oakland's Rooz Cafe that led to his first encounter with the bassist Edo Castro. Like Manring before him, Castro was another master of the "E-Bow". His 7 string bass playing was simply gorgeous and his ability to build loops and solo live was equally astounding. Needless to say, Smith was surprised when Castro graciously asked him join him for a "gratuitous funk" tune. The result was a truly magical experience and a unique new musical friendship was born.
Edo Castro was initially a self-taught bassist, but later attended the American Conservatory of Music in Chicago. " My Teachers were not only schooling me, they'd recommend me for gigs," Castro marveled. During his stay in Chicago he played with some of the finest young bloods of the music scene at that time, Jim Trumpeter, Fareed Haque, Mark Walker and Hassan Khan. Of course there were the jazz icons, Miles Davis Guitarist Pete Cosey and drummer Roy Haynes that Edo was fortunate enough to play with. Castro recalls," After playing a set with Roy Haynes, there was a bunch of us standing around talking to him and out of the blue Roy handed me his card and said, 'Man when you're ready, come to New York and give me a call. That was the greatest stamp of approval in front of all my peers.' I've yet to get to New York and collect on that call."
The pairing of Smith/Castro has often been compared to the ambient works of Brian Eno and Kit Watkins, and the acid-jazz of the Benevento/Russo Duo; intensely powerful, yet poignant music.
-Rent Romus
---

---

---
Friday July 29th, 2011, 8pm (DOORS OPEN 7:30)

ROOM: Poetry & Motion
with

The Atchleys, Kinji Hayashi, Dean Santomieri,
Momoio, Pamela Z, Leigh Evans


Royce Gallery
2901 Mariposa St (between Harrison & Alabama Streets) San Francisco
---
The now infamous ROOM SERIES continues with an evening of sonic artists using words, and movement artists dancing in close quarters. Featuring: The Atchleys, Kinji Hayashi, Dean Santomieri, Momoio, Pamela Z, Leigh Evans.

Three sonic artists who's work includes language are paired with three movement artists who's dance is informed by the poetry of Butoh. Composer/performer Pamela Z, performance poet Dean Santomieri, and sound-cocktail duo The Atchleys are joined in various combinations by Butoh artists extrodinaire Kinji Hayashi, Momoio, and Leigh Evans. Working in a small (16 square ft) playing area, the pairs will set poetry in motion throughout the evening.

The artists are paired in various configurations to create a series of dancing text/sound duets, and then all will play an ensemble sextet of sound and motion to finish the evening.
---
---
---
room: ROBIN COX ENSEMBLE
with Amy X Neuburg and Pamela Z

Friday and Saturday, July 8 & 9, 2011, 8pm
Royce Gallery, San Francisco

The Los Angeles-based Robin Cox Ensemble plays:
Amy X Neuburg, Pamela Z, Robin Cox, and others.
Pamela Z Productions' ROOM Series welcomes back Robin Cox Ensemble - not heard in San Francisco since their previous (sold out) Room Series appearance in 2007! This time around, RCE will perform works by some local Bay Area Composers including the inimitable Amy X Neuburg and ROOM Series curator Pamela Z herself (both of whom will perform with the ensemble during the evening.) RCE will also perform works composed by members of the ensemble including vionlist/composer Robin Cox.

Tickets for this event are $10 and are available through Brown Paper Tickets or at the door.

Royce Gallery
2901 Mariposa St (between Harrison & Alabama Streets) San Franciscoroom: ROBIN COX ENSEMBLE

with Amy X Neuburg and Pamela Z

Friday and Saturday, July 8 & 9, 2011, 8pm
Royce Gallery, San Francisco

The Los Angeles-based Robin Cox Ensemble plays:
Amy X Neuburg, Pamela Z, Robin Cox, and others.